Large Sites with Room to Move
Just over a month ago we opened this resort. Although we have experienced a few glitches associated with opening a new park, one thing we are extremely proud of are our sites. In a very short time we've hosted soccer families, country jammers, people passing through Grand Junction, explorers, and adventurers; all who have loved the layout of the park and our huge sites.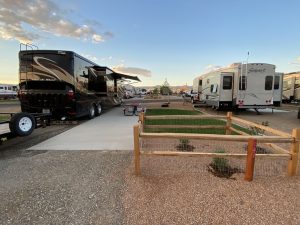 Canyon View RV Resort has 6 different types of sites, all extremely large and roomy. All of them can easily fit the largest of rigs including a 45 foot motorhome or fifth wheel with a tow car and has 20, 30, and 50 amp, electricity and sewer hook ups. Each one is nicely landscaped with trees, shrubs, a 400 sq. foot concrete pad, and lawn as well as a brand new picnic table and fire ring.
The Deluxe Back in Site is 40 feet by 85 feet. It has room for your RV and tow vehicle plus room to move around and enjoy outside dining and the fire ring.
The Deluxe Pull Thru is 40 feet by 81 feet. This site allows you to quickly pull into your site and begin to enjoy the resort and its amenities.
The Premium Pull Thru is 40 feet by 85 feet and has 2 sewer connections. It gives you a little more room to enjoy evenings by the campfire and the pleasant surroundings.
The Family Wide Double Pull Thru is 71 by 81 feet. It has room for an RV and a tent. This is a great site for families who wish to enjoy the RV and Tent experience.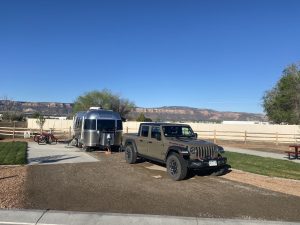 The Premium Open View Back in is 65 feet by 97 feet. It affords the camper a lovely view of a field behind the campground.
In addition to our RV sites, we have special "van" sites which accommodate 1 vehicle  and have 20 amp electricity and water.
When considering a booking, please know that some of our pull-thru and Premium Open View sites have individual dog runs. Other back-in and pull-thru sites are handicapped accessible with picnic tables that have room for a wheelchair and raised fire rings.
We look forward to hosting you! Reservations can be made online or by phone at 970-730-2600.