It's Peach Mania! Palisade Peach Festival
In a blink of an eye, it will be here! The 52nd Palisade Peach Festival starts on August 19th and ends on August 21st.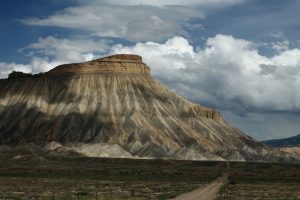 Head to Palisade, Colorado, about 20 minutes east of Grand Junction off Interstate 70. Experience the food, music, and crafts from across the valley, and especially the peaches! Adults and children are invited, but no pets. Check the link below for registration prices and forms.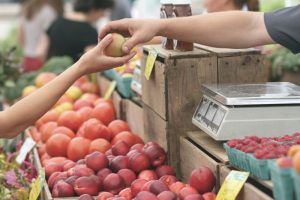 There will be plenty of food, entertainment, contests (have you ever participated in a pie eating contest?), and opportunities to explore Palisade.  Satisfy your hunger with delicious peach products: pies, ice cream, preserves to salsa, peach brandy, and wine and don't forget the delicious, fresh peaches!
You may wonder how peaches are grown in such an arid climate? In 1882, John Harlow, one of the first white settlers in the area, started the first successful peach farm in the area. His first crop failed. Once he learned to fertilize and irrigate the soil by building canals that brought water from the Colorado River, he had more success.
Today, Palisade peaches are the pride of Colorado and world-famous!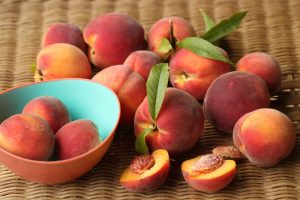 ---
The tentative schedule of events is as follows:
Thursday, August 19th 5:30—7:30, 3rd and Main Streets, Palisade.
Enjoy a free ice cream social with Palisade peaches and watch the street dance in the plaza.
Friday, August 20th 10:00am—9:00pm at Riverbend Park
Tour the Orchard Farm—Leave Riverbend Park at 10:00am.  Register in Advance.
Union of None music on the Peach Jam Stage 4:00pm
Peach Cuisine in the Chef Demo Tent
Feast at the Orchard River View Event Barn 6:00—9:00 pm Register in Advance.
Saturday, August 21st 7:30am—11:00pm
Cross Country Style Race 7:30am—11:00am 451 Pendleton St 1,5, and 10K races. 8-year old's will run the 1K. Register in Advance.
Orchard Farm Tour 10:00
10:00am—8:00pm Peach Fest Poster Signing
Pie Eating Contest
Peach Cuisine at Demo Tent
9:00am—2:00pm Car Show 567 W 5th St. There is a price of admission.
Sunday August 22 9:30am—1:30pm
Palisade Farmer's Market
Important Notes:
Only Service Dogs are permitted at the festival. Coolers are not permitted.
Registration for some events is required in advance with fees ranging from $10 to $25. http://palisadescoc.com/ for information.