Local Premier Cycling Events
Two great Premier Cycling Events are right around the corner right here in the Grand Valley!
The first one is held on September 18, 2021 called the Tour de Vineyards, located right next door in Palisade.  It showcases the beauty of the Grand Valley and the Western Slope.  You have your choice of a leisurely 23-mile ride through the Fruit and Wine Byway, or the challenging 58-mile ride which loops over the Reeder Mesa Climb.
If you love riding bikes and wine tasting with your friends, after dinner head over to the Colorado Winefest a few blocks away at Riverbend Park.  You will need a separate pass for this event.
Stick around the whole week and experience the Palisade Plunge downhill singletrack mountain bike trail.  You start at the top of the Grand Mesa and descend 6000 feet in elevation 32 miles to the town of Palisade.  Guaranteed to keep your heart pumping all the way down!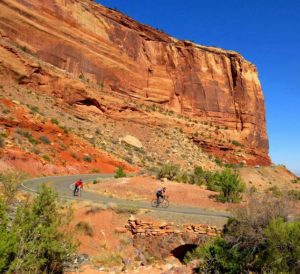 The next weekend, September 25th, 2021, is Premier Cycling event number two, the Tour of the Moon.  This was made famous in the 1980s Coors Classic and later in the "American Flyers" movie.  After starting at the Two Rivers Convention Center, you will make your way over the spectacular Colorado National Monument, climbing up to 6640 feet in elevation during the 41-mile loop.  After your ride, join the post-ride Harvest Moon Celebration.  Truly an epic day in the valley!
Pick your event, or stay the whole week!